The dual utilization of the solar power was able to even out the load and reduce the total investment in batteries as well as going for a larger scale investment.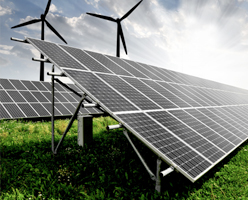 The electricity supply is not reliable in our village, and the cost of fertilizer is a structural bottleneck forcing many small scale farmers to rely on manure and magic.  We can now provide nitrogen to the irrigation systems and upgrade local sources of manure, phosphate and limestone.
The authorities have promised to subsidize both the solar farm and the basis for local fertilizer production.  And the economy is good as is!
Entrepreneur Vasanth Rao Scindia in Chandelao, Rajastan, India, making his business plan for 2021