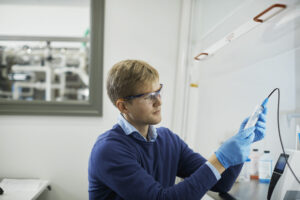 To strengthen our diverse and highly skilled team of scientists and researchers, we are looking for a laboratory assistant. The assistant will carry out sample collection and analysis based on the company's strategic needs and will take part in the daily operations of our laboratory.
The work will play an important role in our research and development activities.
Your tasks and responsibilities:
Coordinate ordering, receiving, shipping and inventory of laboratory materials and samples
Coordinate service and maintenance of laboratory equipment
Laboratory management running daily operations
Assist HSE officer
Personal qualities:
Service minded, proactive with high work capacity.
Structured with an outstanding attention to details and quality.
High ethical standards and integrity
Curious and willing to learn, required training and certification will be provided.
 Qualifications
Interest in and basic knowledge of mathematics and chemistry
Individuals with high school diploma and other diverse backgrounds and skillsets are welcome to apply for this position.
Other expectations:
Fluent written and spoken English
Flexibility to working hours
What we offer:
A team of 32 dedicated employees with a great work environment
Possibility to take part and contribute to a world with less emissions and more sustainable food production
A young company backed by strong shareholders, in the process of establishing a footprint in key European markets
Work place will be in the lab at N2's test centre in Svene – in the vicinity of Kongsberg, Norway. The company head office is located in Asker, Norway.
Please send us your CV and a motivational letter (max 1 page) trough finn.no
Du kan gjerne sende både søknad og CV på Norsk